| Quick Summary | Rodan and Fields MLM Review |
| --- | --- |
| Founder | Dr. Katie Rodan & Dr. Kathy Fields |
| Business Model | Multi-Level-Marketing (MLM) company that sells skincare products |
| Price to Start | $75 |
| Application Required | Yes, sponsor required |
| Best For | People who are social and like to recruit others |
| Recommend | No |
The Rodan and Fields MLM review is here. Is Rodan and Fields worth the hype? Can your goals of long-term financial success and freedom be fulfilled through selling cosmetics and recruiting consultants? My goal is to answer help answer those questions for you.
This Rodan and Fields MLM review will go more in-depth about the organization and possible pitfalls of the business. My goal is to do all the research about Rodan and Fields so you don't have to. Then you can decide if it is worth your time.
Let's jump right in and see how this program works.
What is Rodan and Fields MLM?
The Rodan and Fields skincare line was started in 2002 by two Stanford-trained dermatologists Dr. Katie Rodan and Dr. Kathy Fields. The two founders sold their company to Estee Lauder. Estee Lauder did not give the skincare line the marketing push to make it successful. In 2007, the two dermatologists bought their brand back from the cosmetic giant.
This time around the founders focused on a new business model, an MLM (multi-level-marketing). Exposure from social media played a significant part in massive sales. In 2017, Rodan and Fields was the number one skincare line in North America and valued at $1 billion dollars.
The company is headquartered in San Francisco and Diane Dietz is the CEO and President. There are over 300,000 independent consultants. Rodan and Fields also operate in Australia and Canada.
How Does Rodan and Fields Work?
Research for this Rodan and Fields MLM review found their website claims that becoming an independent consultant is a life-changing opportunity. R + F offers to deliver an easy way to start your own business, join a community of like-minded people, and share products that can change lives.
Change lives? I'm not sure if less eye puffiness is going to make that much of a difference in my life.
To join the company, you must be backed by a sponsor. If you do not have a sponsor, you can ask for one. There is a low start-up cost (more about that later), but if you want products to sell to clients, there is, for most people a large investment.
When you become a Consultant, you have the option to participate in CRP (customer replenishment program), a monthly subscription that simplifies the process of ordering popular R+F products. Enrolling in CRP means you will receive regular monthly shipments of your chosen products at your doorstep and your credit card will be automatically charged each time.
Another option is the VIP Box. The Rodan and Fields VIP Box (Very Important Product Box) is a customizable order of products for new Consultants only! For 90 days after a person joins, they can get products at 45% off the retail price.
How Much Does It Cost To Join?
There is no way I could leave out the start-up costs in this Rodan and Fields MLM review. However, there is a very low start-up cost of $75. But this is only the starting point. There are many tempting add-ons like the CRP and the VIP Box as explained in the previous paragraph.
Step 1: Purchase your starter pack ($75) which includes:
Getting Started Business Guide (1)
Product Guides (5)
Share R+F Flyers (5)
Water Bottle (1)
Samples of R + F's most popular products (25)
Step 2: Subscribe to the back-office business management tools which include a website. Pulse Basic comes free or an upgrade to Pulse Pro is $24.95 per month. When a person joins as a consultant, their first month of Pulse Pro is free with no obligation to continue. Pulse Pro also gives free shipping for orders of 100+ in SV (sales volume). Scroll down to see the image detailing the features.
Step 3: Optional kit purchase
The Ultimate Kit sells for $995 and offers 7 different components, including the ultimate sampling box that helps to fuel meaningful conversations with your clients.
The Core Kit retails at $695 and offers five different sets of core products with samples to begin your journey of selling.
The Personal Results Kit retails for $395 and offers two regimens, some additional branded products, and the initial business kit that's required for everyone.
Step 4: Now get to work because you must sell $100 in (SV) sales volume every month to remain an active consultant.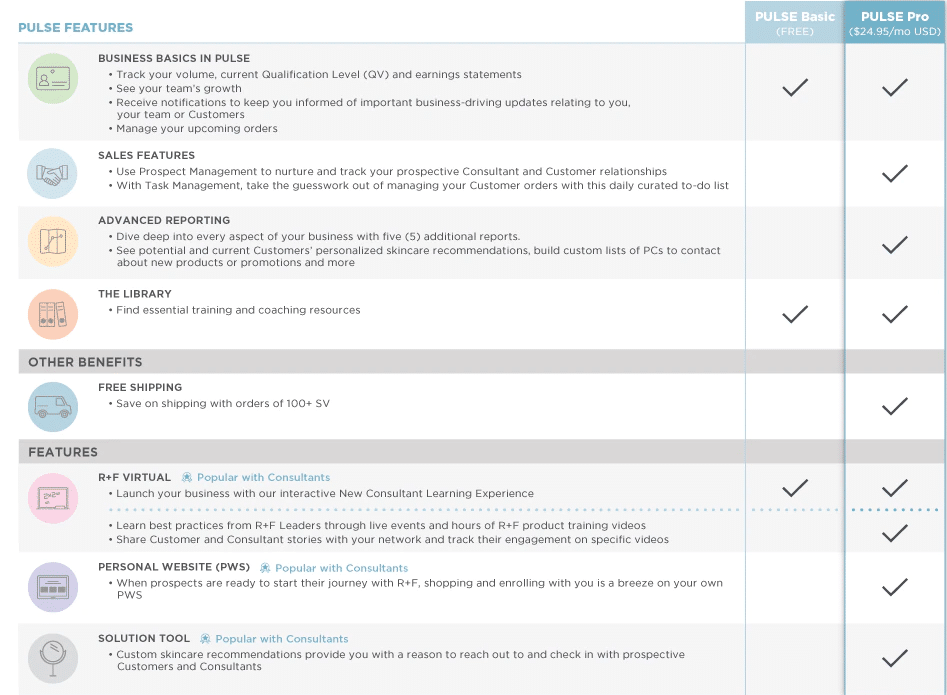 Are Rodan and Fields Products Worth Their Price?
Even during the COVID-19 pandemic, people continue to purchase beauty products because it gives them an emotional lift. Overall, Rodan and Fields products have a price point that is on the higher end. Let's just say that these products won't fit into a drug-store cosmetic budget.
Their signature product is Lash Boost. This is an eyelash serum used nightly that conditions and moisturizes lashes to promote the appearance of fuller, longer, darker-looking lashes. One tube will set you back $155 and will last approximately 60 days.
Another popular product is the Active Hydration Bright Eye Complex cream. The eye cream is formulated to nourish and refresh the eye area by brightening, hydrating, and improving the appearance of under-eye puffiness. This will also last about 2 months and is a whopping $72.
Deciding if the products are worth the price is an individual decision. Most of us are willing to find a way to afford something if it works. Others may be on the search to find similar products that cost less but can deliver the same results.
Can You Make Money with Rodan and Fields?
Like most MLMs, this Rodan and Fields MLM review found making money is more involved than one might think. I will explain the 5 ways to earn with this company. According to the R + F income disclosure, consultants earn a shockingly low amount of money.
1. Retail Profit
Sales can be made face to face or via the internet. The customer must use your personal R + F website or consultant number to earn a commission. You can earn up to 33% from a one-time sale and up to 16% from a preferred customer. A preferred customer (PC) is one who chooses auto-ship for their products.
2. Consultant Commissions
In order to qualify for this payment, a monthly quota of products worth 100 points of QV (qualifying volume) or sometimes known as SV (sales volume) must be purchased. The products have the same value worldwide.
Remaining active by purchasing products worth 100 QV points will maintain active status. A consultant's status must be active to receive a commission from their sales or their downline consultants.
3. Personal Team Commissions
To earn team commissions, a consultant must qualify as an active Executive Consultant with 600 points of PSQV (personally sponsored qualifying volume? These points can come from either preferred customers or consultants you have personally sponsored. The points earned by consultants you sponsor will include any volume from their retail sales
As an executive consultant, you will earn a team commission of 5% on all the points generated by your team. Your team includes all the consultants and preferred customers you have enrolled, and all the retail sales made by consultants you have recruited. Rodan + Fields refers to this as your L2 points.
4. Generation Commissions
Once you have reached the level of Executive Consultant and one of the people you sponsored also reaches this level, then you will become a Level 1 Executive Consultant. This will entitle you to earn a 5% commission on your downline.
One can continue to increase in rank as the consultant continues to sponsor others who have reached the Executive Consultant rank. Once the consultant has 8 Executive Consultants in your personal team, the Level 5 Executive consultant status is given At Level 5, a 5% commission is given from 5 generations of your downline.
If your team continues to grow, a consultant can become an RFX Executive Consultant and earn a 2.5% commission from the 6th generation in their downline To qualify, a consultant will need 15 Executive consultants in your team and at least 5 of them need to achieve the title of Level 5 Executive Consultant.
5. Performance Bonuses
A consultant may qualify for additional incentives. These may range from a specific amount of money to apply towards a car payment, payment towards a car, cash bonuses, and many other gifts.
If you take a look at the earnings image on the right-hand side below, in 2018, 61% of consultants made an average of $325 for the year. Almost 30% only made an average of $2342 per year. These statistics do not represent the consultants who quit before the year was complete.
In reality, 90% of the consultants made an average of $2342 or LESS in 2018. As a side note, about half of all people who join MLM's quit before they complete 12 months.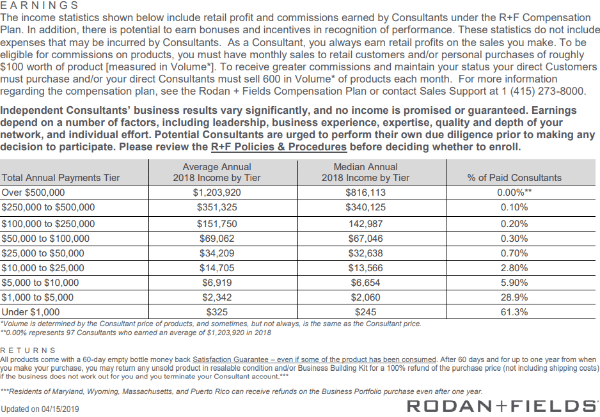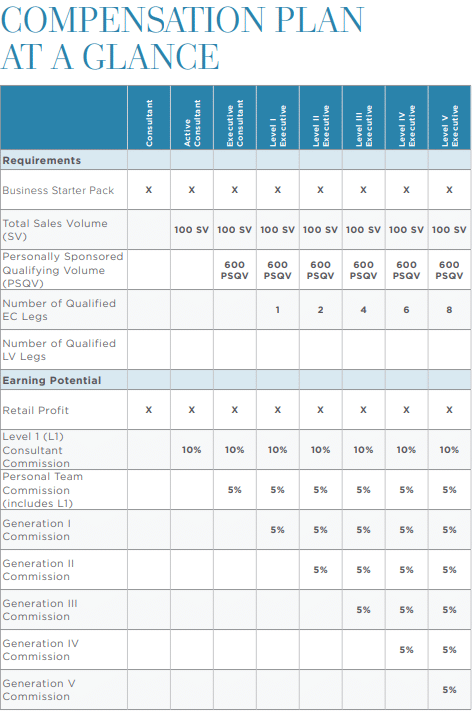 Pros of Rodan and Fields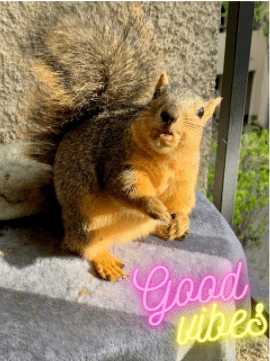 The company is legitimate and is founded by two well-known and respected dermatologists who also developed ProActive, acne skincare line which is not an MLM
R + F has a wide range of skincare products to help many skin types
Every product from Rodan and Fields comes with a 60-day money-back guarantee
Joining Rodan and Fields at the very basic level is affordable for most people
The company has a strong financial backing
You can work on your own schedule
Cons of Rodan and Fields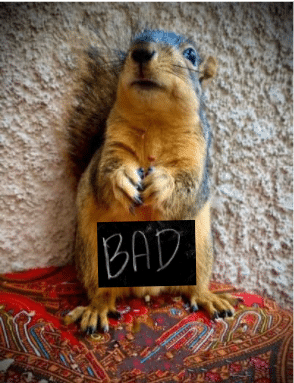 Most consultants don't make a significant amount of money
The products are expensive
To join the company you must be invited by a sponsor or request a sponsor
You must subscribe to the Pulse Pro at an extra cost if you want a personalized domain, custom skincare recommendations, and advanced analytics.
There are ongoing lawsuits against the company
You can work on your own schedule
Anyone can purchase the product from the main website and bypass the consultant
Getting rejected by friends, family, and social media contacts
Beware of Complaints and Lawsuits!
Unfortunately, this Rodan and Fields MLM review found there have been numerous complaints about the lash serum. Users claim the color of their eyes has changed, experienced droopy eyelids, itchy eyes, eyelid discoloration, thinning and loss of eyelashes, eye sensitivity, eye infections, and vision problems. I'm not sure if I would be willing to suffer these side effects to have longer lashes!
The reason users are experiencing these problems is likely due to an ingredient called isopropyl cloprostenate. This drug is used to treat glaucoma and can have some nasty side effects like the ones mentioned earlier.
Eye doctors have openly criticized cosmetic companies for not alerting customers of the possible hazards of using a lash serum-containing isopropyl cloprostenate. Because this lash serum is labeled as a cosmetic, and not a drug, Rodan and Fields can get away with misleading advertising and not full disclosure of the side effects.
In 2017, Procter & Gamble/Olay Regenerist filed a lawsuit against Rodan and Fields for making misleading and false claims about the R + F products repairing wrinkles. If you have used the products before and have proof of purchase, you can file a claim here.
In 2018, there was a $5,000,000 class-action lawsuit filed against R + F for their lash serum product. Rodan and Fields failed to label that the product contained isopropyl cloprostenate and the possible side effects. You can read more about the lawsuit here.
Is Rodan and Fields Legitimate?
While investigating for this Rodan and Fields MLM review, I found it is a legitimate company. Remember, the founders, Dr. Katie Rodan and Dr. Kathy Fields developed Proactiv® Solution in 1995 and then formed Rodan + Fields in 2000. Don't forget that in 2017 and 2018, the company was named the fastest-growing skincare company in North America.
The company is a solid business and is backed by its financial disclosures.
Final Thoughts of the Rodan and Fields MLM Review
My Rodan and Fields MLM review found that the company is fantastic at promoting its products with great marketing. So great, that many consultants believe they won't have to put in a lot of hard work because the products sell themselves.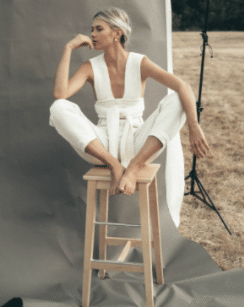 During the course of this Rodan and Fields MLM review, behind every successful business is a great deal of work. The small amount of income most will receive for such hard work is extremely disappointing. For someone that is looking to make a full-time income, R + F is probably not a smart opportunity.
Competition is stiff with an abundance of other consultants and the ability to purchase directly through the R + F website, Amazon, and e-Bay is a recipe for disaster. There is no wonder why 99.7% of all people who join MLM's lose money.
Check out another Marmalade Monopoly MLM review to discover if this opportunity could be for you.
How to Earn a Full-Time Income from Your Laptop
See the Simple 4 Step Formula for Building a Business and Earning Your First $1,000 Online