At first glance, Academia.edu appears that you've stumbled upon a goldmine of credible research papers and resources. Well, many of us think that ".edu sites" are from reputable universities or higher-learning institutions. This is not always true.
But in the case of Academia.edu's, they got lucky. The website name was purchased before 2001when strict eligibility requirements were put into place. After 2001, to be eligible for a .edu domain, an organization has to be a credible university or higher learning institution. Don't be fooled, because today's standards would not qualify Academia.edu to obtain a ".edu" top-level domain.
In this Academia.edu Review, I will uncover the truth about a company that profits off free information. The majority of people who submit their papers to the website may not know the company will make money off their hard work.
What is Academia.edu All About?
Academia.edu's purpose is to serve as a platform for sharing academic research. Sharing research gives scholars more exposure and a chance to have their work cited. There are approximately 22 million papers available and 31 million users visit the site every month.
Academia.edu does allow people to connect with their colleagues and publish their own work. Also, a user can keep track of who reads and references their material. Because honestly, this is a social networking site just without having to claw through pictures of people's cats, watch videos of 2-year-olds throwing a tantrum, or stumble upon the ending of that movie you haven't finished watching.
The site, founded by Richard Price and headquartered in San Francisco, went live in 2008. By 2011, Price raised almost $18 million dollars in equity funding. Their real name, listed with the SEC (Securities and Exchange Commission) is Academia, Inc.
Hidden among the website is a confession that Academia.edu is a social networking service that allows its users to create academic profile pages. People can connect with others around the world with the same interests.
Mission
Academia.edu's mission (see below) sounds like they want to save the world!
2 Types of Memberships | Free and Premium
Free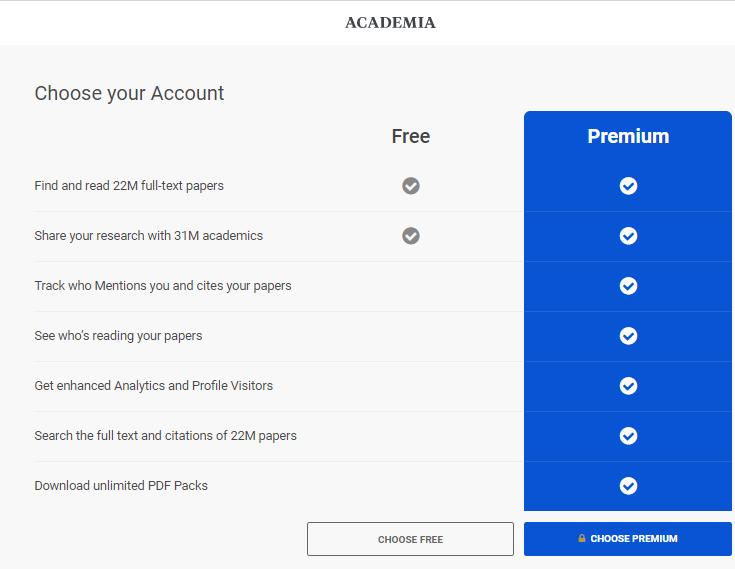 The free membership allows the member to download and read all papers. Although what the member is giving the company in exchange, personal information, is so valuable, it outweighs the cost of giving the content away to members for free. The search tool only displays results of keywords in the title instead of the content.
Premium
The premium membership includes benefits not available with the free account. Academia Premium has exclusive features that give you information about your readers, in-depth analytics, and improve the user's overall experience.
Premium Benefits
Mentions

-Learn who cites your work

Reader

-See who interacts with your work

Enhanced analytics

-how, when, and where your profile was discovered and viewed

Advanced search

-Explore keywords in the full text of millions of uploaded papers

Profile visitors

-find out the types of people that check out your profile

A personal website

-a beautiful way to show your presence to the world

Grants

-search the database with over 1000 grant and fellowship opportunities

Bulk download

-download whole groups of related papers to jumpstart your research

Search alerts

-Stay updated on your research with automatic reports of saved search queries

Summaries

-Get super-summarized versions of papers & save time on research
Better Think Twice Before Giving Your Info Away!
I wanted to be as thorough as I could in this Academia.edu review, so I thought I would open a free account. But first, I wanted to check if the Better Business Bureau (BBB) gave their seal of approval. The BBB did not approve of Academia.edu's business dealings.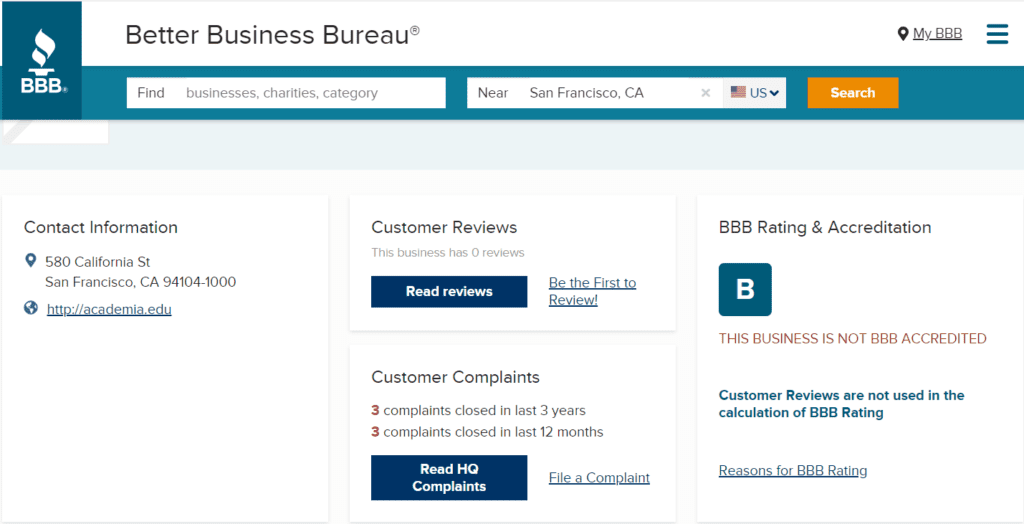 So, if you are looking to give Academia.edu a try as I did, there is a signup option using one of your social accounts (Facebook, Google, and Twitter) or a personal email address.
Using one of your social accounts means you grant Academia.edu access to your social networking information. The heaps of data and personal information you have just handed over to them is a goldmine. Eeeeks, there is already enough information out in cyberspace already, please think twice before giving the company access to your accounts.
After my first and only subject search about dental hygiene unleashed a flurry of messages to upgrade to a premium account. So far, this Academia.edu review writer has received zero value from the website and yet they are already trying to upsell me. What a turn-off!
I signed up for the Academia.edu account and 48 hours later, my account was flagged for suspicious activity. I only searched one subject, which was dental hygiene. Oh, I can see how teeth can be so suspicious and threatening! What a hassle to deal with right off the bat.

Let's Face It, Academia.edu is Not About Academics
The website misleads people into thinking it is a professional and communal environment. The site is used for networking, listing citations, and file sharing, and keeping academics up to date on the latest people, papers, and talks in their field. However, they are sharing knowledge with the world by making a profit on the content they get for free. They make money by selling the analytics about the activities of their users.
You might be surprised to find out that ANYONE can upload information to the site. This Academia.edu review found there are no website administrators that review the posted information. So, whether the information is right or wrong it doesn't matter. Quality and truthfulness are not guaranteed.
I would think twice, maybe three times, before you use Academia.edu as a reference for a research paper.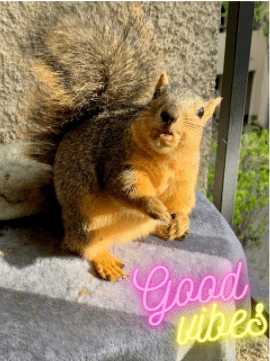 Pros of Academia.edu
Anyone can publish their work
There is no cost to display your work
Yearly premium membership is not all that costly ($99)
30-day money-back refund if not satisfied
Research may reach a broader audience if featured on the website
Cons of Academia.edu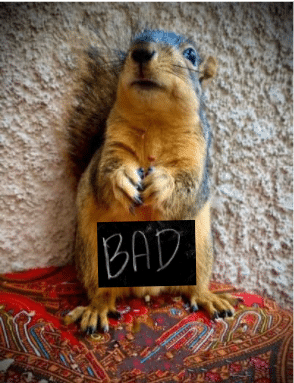 Content is not reliable and maybe untrue, inaccurate, and out-of-date information
Using the material from the website may discredit a writer's reputation
Free membership only allows keyword search in titles vs content
A large amount of content is greater than ten years old and considered outdated
Material is not peer-reviewed nor fact-checked by the company
Misleading .edu domain address
If you want to be taken seriously as an academic, steer clear of this site
Deceitful marketing to appear as a "go-to" place for scholarly research
The website has a "edu" domain but is not an academic institution
Although this tactic is no longer practiced, in 2016 emails were sent to users to determine if interested in paying to have their content recommended by the site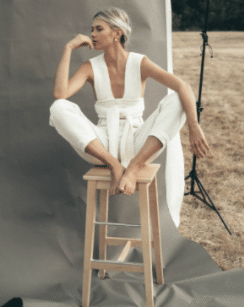 Final Thoughts About Academia.edu
For many people, Academia.edu does not meet most academic standards of credibility. If there is any doubt that a source is not credible, then it is best not to use it. A researcher or writer must be an authority in their subject matter and reference factual material. Unfortunately, the site looks pretty legit and could easily be taken at face value by many. Keep in mind that anyone can put together an authentic-looking site. This Academia.edu review has uncovered their hidden agenda and it is to handsomely profit off the hard work of others!
To read another truthful and credible review, take a look at the iMarkets Live MLM Review here.
How to Earn a Full-Time Income from Your Laptop
See the Simple 4 Step Formula for Building a Business and Earning Your First $1,000 Online